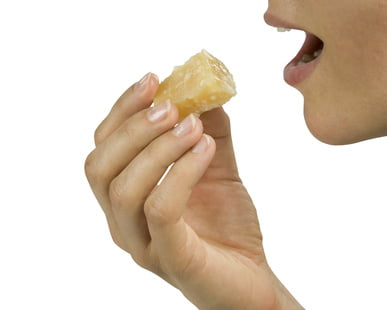 Formaggi e dieta: tiriamo le somme
Sul rapporto fra acidi grassi saturi e rischio cardiovascolare restano ancora molti dubbi e lo stesso vale per il rapporto fra consumo di specifici alimenti, inseriti nel contesto di un regime alimentare salutare, ed il rischio di insorgenza di varie malattie (9).
Spetterà alla ricerca futura chiarire questi dubbi e saranno gli esperti che hanno il non facile compito di elaborare le raccomandazioni nutrizionali a tradurre le evidenze in consigli per la popolazione. Per ora, un atteggiamento prudente può essere quello non di considerare gli acidi grassi saturi "buoni" ma di tener comunque conto che nella dieta c'è posto anche per loro (13). In ogni caso, su una cosa non vi sono dubbi: il formaggio è uno degli alimenti più nutrienti che esista.
Bibliografia
9. Astrup A, Dyerberg J, Elwood P, Hermansen K, Hu FB, Jakobsen MU, Kok FJ, Krauss RM, Lecerf JM, LeGrand P, Nestel P, Risérus U, Sanders T, Sinclair A, Stender S, Tholstrup T, Willett WC. The role of reducing intakes of saturated fat in the prevention of cardiovascular disease: where does the evidence stand in 2010? Apr;93(4):684-8.
13. Kathleen Zelman,The Great Fat Debate: A Closer Look at the Controversy—Questioning the Validity of Age-Old Dietary Guidance Journal of the American Dietetic Association Volume 111, Issue 5, May 2011, Pages 655–658
Autore: Carla Favaro
Tags In