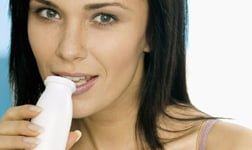 Dieta dimagrante: quando e come
Quando dimagrire?
Cercare di perdere peso senza che vi siano reali indicazioni mediche per farlo comporta dei rischi, specialmente quando i regimi sono sbilanciati e monotoni. Come comportarsi, quindi, di fronte alle tante diete alle quali viene dato ancora più spazio in questo periodo, con l'avvicinarsi della "prova costume"?
Lo suggeriscono gli esperti dell'Anses che, alla fine del loro vasto e ben documentato rapporto, giungono alla conclusione che cercare di perdere peso attraverso la dieta trova una giustificazione clinica solo in caso di sovrappeso o obesità (3).
Se esistono queste condizioni, il dimagrimento deve essere supervisionato da specialisti, in grado di raccomandare la dieta che meglio si adatta alle specifiche esigenze individuali.
In sintesi:
– Mettersi a " dieta" non è una cosa che può essere fatta alla leggera
– Il "fai da te" può essere molto pericoloso
– L'obesità è una malattia multifattoriale il cui trattamento richiede un approccio multidisciplinare
– In termini di salute, non vi è nulla che possa sostituire una dieta varia e bi-lanciata, il cui apporto calorico non superi i fabbisogni individuali. Per ridurre il rischio di aumento di peso, le modifiche delle abitudini alimentari devono essere accompagnate da attività fisica regolare.
E per chi avesse davvero qualche chilo di troppo…
Non dimentichiamo che il latte e i suoi derivati rappresentano uno dei 5 gruppi di alimenti che dovrebbero essere sempre presenti nella dieta, anche quando si ha qualche chilo di troppo.
È chiaro che, in questo caso, diventa ancora più importante il consiglio di dare la preferenza ai prodotti meno grassi.
In particolare, tre porzioni da 125 grammi l'una di latte scremato* (o yogurt magro, che presenta valori simili) forniscono, con sole 135 kcal:
ben 13.5 grammi di proteine (pari al 25% del livello di assunzione giornaliera raccomandata per una donna di 30-40 anni) (9)
468 mg di calcio (pari al 58.5% )
562 mg di potassio (pari al 18%)
– 0.15 mg di vit. B1 (pari al 16%)
– 0.63 mg di vit. B2 (48%)
– 2.2 mg di zinco (pari al 31%)
– ed inoltre vitamina B12, magnesio, selenio ed altro ancora.
Non è facile trovare alimenti che, a parità di apporto calorico, siano altrettanto ricchi di nutrienti.
* I valori sono stati calcolati sulla base dei dati riportati per il latte scremato, nelle tabelle di composizione degli alimenti INRAN aggiornamento 2000
Bibliografia
1. British Dietetic Association The BDA Announces the Results of its Annual Top 5 Worst Celebrity Diets to Avoid in the New Year 16 November 2011. http://www.bda.uk.com/news/111117CelebDiets.html
2. INCA 2 (Individuelle Nationale des Consomations Alimentaires 2) Afssa, Étude INCA 2, 2006-07.www.afssa.fr/Documents/PASER-Sy-INCA2.pdf
3. OPINION of the French Agency for Food, Environmental and Occupational Health & Safety concerning the request to evaluate the risks related to dietary weight-loss practices http://www.anses.fr/Documents/NUT2009sa0099EN.pdf).
4. Assessment of the risks related to dietary weight-loss practices . Collective expert report .November 2010 .http://www.anses.fr/Documents/NUT2009sa0099RaEN.pdf
5. Shapses SA, Riedt CS. Bone, body weight, and weight reduction: what are the concerns? J Nutr 2006;136(6):1453-6.
6. Cifuentes M, Riedt CS, Brolin RE, Field MP, Sherrell RM, Shapses SA. Weight loss and calcium intake influence calcium absorption in overweight postmenopausal women. Am J Clin Nutr 2004;80(1):123-30.
7. Thorpe MP, Jacobson EH, Layman DK, He X, Kris-Etherton PM, Evans EM. A diet high in protein, dairy, and calcium attenuates bone loss over twelve months of weight loss and maintenance relative to a conventional high-carbohydrate diet in adults. J Nutr 2008;138(6):1096-100.
8. Skov AR, Haulrik N, Toubro S, Molgaard C, Astrup A (2002) Effect of protein intake on bone mineralization during weight loss: a 6‐month trial. Obes Res 10(6), 432‐8.
9. LARN Società Italiana di Nutrizione Umana (SINU) rev. 1996
Autore: Carla Favaro
Tags In